For those who don't have the time to wait for construction, we offer fully operated cherry picker access platforms that can be used by IPAF qualified operators.
Looking for a cherry picker hire company in Blackpool? Power Lift Access is the best choice for all your aerial platform needs. We have truck mounted cherry pickers operated by IPAF trained operators and fixed rates from £45 per hour.
If you're looking for professional equipment that will be delivered on time and with no fuss then look no further than us. We have all the experience necessary to get the job done quickly without any hassle or fuss.
Get in touch with us today! Our team of experts will be happy to answer any questions you may have about our services and help find the perfect solution for your project.
A Range of Access Equipment Available to Hire
We supply a range of powered access equipment suitable for all needs and budgets. Our selection includes boom lifts, truck mounted platforms, scissor lifts and more across Blackpool and the North West. All equipment is maintained to a high standard and is regularly tested for safety as well as being complete with all relevant safety equipment.
Truck Mounted Cherry Picker Hire
Power Lift Access, we are always looking for new ways to help our customers. That's why we have invested in a range of truck mounted access equipment, perfect for carrying out tasks such as:
Light building maintenance
Street light replacement
Fencing and boundary installations
Window cleaning
Our fleet of cherry pickers range from our 17 tracked spider lift which has a reach of 7.5m to our z21 Nissan Cabster which has a total reach of 21m for those hard to reach places.
Not only do we offer a range of cherry pickers for hire in Blackpool, but our team of qualified engineers are also on hand to give you advice on how best to carry out your task safely.
30 Meter Truck Mounted Cherry Picker With 20 Meter Reach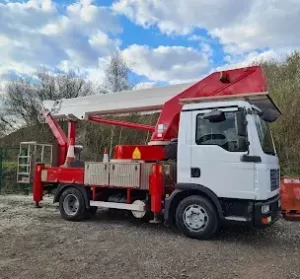 Our largest cherry picker hire service in Blackpool is our Bison TKA 28KS cherry picker, which comes complete with a 20-metre boom length for maximum reach. With a compact design, the TKA 28 KS offers exceptional manoeuvrability and universal deployment alongside high-quality hydraulic components makes it a very useful all-round resource.
For detailed specifications, see this downloadable pdf from the manufacturer;
https://www.powerliftaccess.co.uk/wp-content/uploads/2021/09/Bison-TKA-28KS-parametry.pdf
Why Choose Power Lift Access?
The team at Power Lift Access have many years of experience in hiring out equipment and we pride ourselves on the service that we offer to our customers.
All of our operators are IPAF trained so you can be certain that you can trust our team to get the job done safely.
For a safe, quick and reliable solution for your cherry picker hire in Blackpool please contact us today for competitive prices and a free quotation.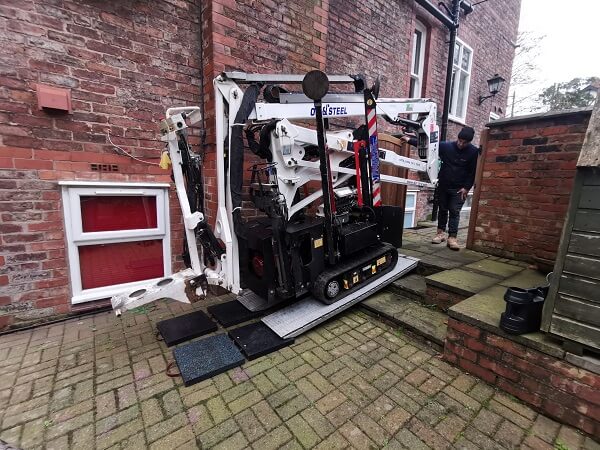 Why choose us for your cherry picker hire?